John Doran, editor
Nick Cave - The Sick Bag Song

On September 1, 2014 I went part-time at tQ and took a back-seat role while writing a book, recording a CD, releasing an LP, joining a rock band and going on tour - or having a midlife crisis as it's more commonly known. Even though I'm back full-time now, in comparative terms I've hardly listened to any new music since that date. While this isn't exactly ideal, it has freed me up to occasionally enjoy some of the other things that have been missing in my life since this site started. Which includes epic poetry written on airline sick bags by Nick Cave, apparently.
Gnod - Infinity Machines
(Rocket Recordings)
When I say "hardly" I should qualify that. I mean, I used to listen to about 18 new releases a day and at the moment it's just an average of three. And out of the records I did hear this year, Infinity Machines is my most played. A mind-expanding triple by Salford-based psychedelic research unit Gnod.
Lone Taxidermist - Trifle [DEMO]

I've listened to this demo until all of the little zeroes and ones have started wearing out. While Natalie Sharp claims that she is changing direction (to a more serious style of music) now that she is done with this recording, I still think a label with a little bit of wedge and clout should put this collection of upbeat, spiky, gothic disco-punk bangers out so a deservedly large audience can share in her glittering baroque pop vision.
E.E.K. featuring Islam Chipsy - Kahraba
(Nashazphone)
There was concern in some quarters that when Egyptian keyboard king Islam Chipsy's debut studio album came out, it might have lost some of the power contained in early live shows or the Live At The Cairo High Cinema Institute LP or the YouTube clips, with the forensic nature of a modern studio smoothing off all the rough edges. These fears have been assuaged by this all-out, high definition, ultra-pointillist assault. And it sounds great on club speakers.   
Bad Guys - 'Crime', from Bad Guynaecology
(Riot Season)
You should have got me the truck… you FUCK!
East India Youth - Culture Of Volume
(XL Recordings)
The boy done good.  
Insanlar/Ricardo Villalobos - Kime Ne
(Honest Jon's Records)
This 24-minute slab of throbbing Turkish psych first came out in 2013 but it's new to me this year. Honest Jon's reissued it with a couple of Ricardo Villalobos remixes on a double 12" set. And it's magnificent.
The Membranes - Dark Matter/Dark Energy
(Cherry Red)
The best post-punk concept album about love and loss set against the birth and death of the universe that you're likely to hear all year. Or just one of the best albums you're like to hear all year full stop.
The Eccentronic Research Council - Johnny Rocket, Narcissist & Music Machine... I'm Your Biggest Fan
(Without Consent)
The best 'early electronic' synth-pop psych concept album about stalking set in a fictional Yorkshire town featuring 'her from the telly' and 'that horrible band from the Glastonbury red button coverage' that you're likely to hear all year. Or just one of the best albums you're likely to hear all year full stop.  
Luke Turner, co-editor
A Sunday in Berghain
At the start of the year an inspiring, knackering and deafening trip to the CTM festival in Berlin was topped off with a climactic first Sunday spent at Berghain. It's probably a cliché to be so absolutely bent over by just how special this place is, arguably a last bastion of autonomous (arguably queer) spaces against the pincer movement - steel towers from one flank, cocktails-in-a-jam jar the other - of capital. I nearly didn't get in, which is probably what makes it so excellent.
The continuing greatness of Richard Skelton
A recent article in the New Statesman highlighted many of the concerns I have about nature writing, and I suppose the same could be applied to 'landscape music' and twee songs about hedges and clouds. Richard Skelton continues to set fire to the corn dolly with his melancholic yet increasingly defiant music, and in new project The Inwards Circles he masters droning electronic evocations of tea-brown sinew scraping through ancient peat. Joseph Burnett's album review is here and me on a set in a Bethnal Green church can be found here.
Get In The Sea
This is a time for the calling out of bullshit, and not just by every media company under the sun producing a 'think piece' out of something the Quietus has bunged up with a brief critique on social media. Get In The Sea, a Twitter account and Facebook page, are the long walk off a short plank for man-bun-wearers and other proponents of contemporary bellendery.
The Goob
(dir. Guy Myhill)
This portrayal of a teenage boy trying to carve out an identity against both the oppressive flatness of the Fenland landscape and his violent, moronic stepfather makes for a brilliant debut feature film by Guy Myhill. Probably hasn't gone down well with the North Norfolk tourist board.
One More Grain - Grain Fever
(self-released)
Daniel Patrick Quinn continues to make wonderful music and bracing wine up in his cottage next to Stornoway's airport. Could professed Quinn-fan Stewart Lee's curation of ATP next year be the best chance we have of hearing this incredible music live? (Read our review of One More Grain's new LP here).
Algiers
As I write this on Monday 6 July, Algiers are the only musical group I follow on social media who've even mentioned Greece's referendum 'no' vote, which speaks volume about the level of political engagement of much contemporary music. The first new American band I've loved in years, Algiers' debut album (review here) and live evolution (review here) suggest they are certainly a work in progress - but what a work that is. (My interview with Algiers is here).
Jones / Bulley - Vespers
I've previously known James Bulley and Daniel Jones' work via their large-scale landscape installations Variable 4 and Living Symphonies, where signals from the natural world were used to trigger constantly evolving pieces of music. At the start of each day Vespers is a blank sheet of paper in a booth at the Southbank Centre, a printer head poised over it. By the evening, it's covered by a unique musical score composed using signals captured by web crawlers working their way through the vast data stream of the UK's internet traffic, making for a poignant and intimate snapshot of the blare of the web.
Jenny Hval
On a personal level, few artistic collaborations have come as close to flattening me emotionally as Jenny Hval and Susanna's Meshes Of Voice performances at Unsound 2014 and CTM this year. Hval's latest solo LP, Apocalypse, girl, took things in a sharp new direction: almost lounge-y and frequently dreamlike electronic pop backing politicised lyrics that stay just the right side of earnest. Hval's recent appearance at Cafe OTO was similarly bold, as much performance art as it was gig (Sharon O'Connell reviews that here).
Raw Power Festival - London, May 22-24
Much of the best music coming out at the moment is happening on the fringes of noise rock, from Gnod to Hey Colossus, Sly & The Family Drone and Guapo. This was made clear at London's Raw Power Festival, where a great, friendly crowd spent the weekend getting on it to killer set after killer set - check out Hirvikolari's colliery band-goes-Coil grooves above. Special mention too for the skronking dirge of Sex Swing, who seem to rule every festival they play.
More LPs That I Have Loved (Yes I Know This Is Cheating)
East India Youth - Culture Of Volume (XL Recordings); RP Boo - Fingers, Bank Pads, And Shoe Prints (Planet Mu); Terakraft - Alone (Outhere Records); Mbongwana Star - From Kinshasa (World Circuit); Cold Cave - Full Cold Moon (Deathwish Inc.); Wire - Wire (Pinkflag); The Membranes - Dark Matter/Dark Energy (Cherry Red); Holly Herndon - Platform (RVNG Intl./4AD); Bassekou Kouyate & Ngoni Ba - Ba Power (Glitterbeat); British Sea Power - The Decline Of British Sea Power reissue (Golden Chariot Records Ltd.); Jlin - Dark Energy (Planet Mu); Carter Tutti - Carter Tutti Plays Chris & Cosey (Conspiracy International); Matana Roberts - Coin Coin Chapter Three: River Run Thee (Constellation); Jaakko Eino Kalevi - Jaakko Eino Kalevi (Weird World).
Laurie Tuffrey, new music editor
Sufjan Stevens - Carrie & Lowell
(Asthmatic Kitty)
Stevens traded in the sprawling instrument arsenals and conceptual conceits of his previous records to write an album about the experience of losing his mother and came back with perhaps his finest work to date: sonically skeletal, bracing and painful in its honesty and very frequently beautiful.
Claude Speeed - Sun Czar Temple
(Planet Mu) 
More noise, said Stuart Turner of the prevailing direction his ambient productions are taking at the moment. His first EP for Planet Mu backs this up: the tracks have lost none of the panoramic structuring that touched his debut album My Skeleton, but they've acquired a harder edge, opener 'Traumzeuge' frazzling monolithic piano chords in over-overdrive before letting the barest excerpt of a plaintively pretty song emerge at the end.
Bardo Pond - Is There A Heaven?
(Fire Records)
After last year's glorious Looking For Another Place, featuring sun-dappled and kinetic covers of The Velvet Underground and Brian Eno, the Philadelphian space cadets rounded off their Record Store Day trilogy of limited covers 12"s with this, a distortion-rinsed version of Roxy Music's 'In Every Dream Home A Heartache' and a doom-like take on Albert Ayler's 'Music Is The Healing Force Of The Universe'.
Prurient - 'Dragonflies To Sew You Up', from Frozen Niagara Falls
(Profound Lore Records)
Just one facet of Dominick Fernow's mammoth, varied double-album, this early highpoint (of which there are many) undoubtedly nods to his pop sensibilities. Those aren't pop sensibilities in the way that, say, Miguel has pop sensibilities; no, jackhammer kicks stab repeatedly to the point of numbness before they fall away to leave a chasmic synthscape rolling out in front of you - a solitary flare of caustic white noise breaks on the horizon and for one brief moment it's beautiful and vertiginous. Then, a garble of commuter voices usher in high-tension tom breaks and Fernow howls his closing sentiments, the bloodstained sluice gates opened again.
Ariel Kalma & Robert Aiki Aubrey Lowe - 'Magick Creek', from FRKWYS Vol. 12: We Know Each Other Somehow
(RVNG Intl.)
A perfectly emblematic opening gambit to this wonderful album of sun-doused Australian outback ambience, coaxing a dark, entrancing interplay between synths and saxophone from behind the constant trickle of water and bird noise.
Sónar festival - Barcelona, Spain, June 18-20
Photograph courtesy of Ariel Martini
The line-up looked to be an embarrassment of riches, featuring as it did Holly Herndon, FKA twigs, Skepta & JME, Mumdance & Novelist, Owen Pallett, Evian Christ, Arca, Helena Hauff, Randomer, Daniel Avery, Klara Lewis, Russell Haswell, Skrillex, The Chemical Brothers, Lorenzo Senni and more, and in reality, this was more than amply proved to be the case. Highlights are almost too numerous, though The Bug turning a vast hall into a shuddering vortex of noise, presided over by the judge, jury and executioner trio of Manga, Miss Red and Flowdan, probably comes top. (Read our Sónar review here).
Torres - Rough Trade East, London, June 4
Photograph courtesy of Mathew Parri Thomas
Far from dissipating any of the primed, decidedly amped-up energy of her second album, Mackenzie Scott running through Sprinter's songs without her band served to pull them into closer focus, making songs that already bristled with intensity even more direct, the candid details of 'New Skin' laid bare and 'Strange Hellos' spiking with a spontaneous, howling scream.  
Sun Ra Arkestra - Cafe OTO, London, June 10
Photograph courtesy of Fabio Lugaro
Proof, if any more were needed, that the centre of the cosmos lies inside Marshall Allen's Casio VL-1. (Read Stewart Smith's review of the gig here.)
FKA twigs - Glastonbury festival, June 28
Not only did this set sound great - twigs' soprano piercing the fading light of the final-day sky as she stretched out 'Pendulum' - but visually it was something else, reaching back to her Congregata shows at London's Roundhouse earlier this year with a gradually-amassed troupe of dancers. By the time 'How's That' had been brought to a dramatic denouement, a synced mass of bodies hurling twigs through the air with scant regard for gravity, the evening was hers.
Robert Macfarlane - Landmarks
(Hamish Hamilton)
This timely and lovingly-done book seeks out and codifies words for geographical and meteorological specificities used in dialects across the British Isles. As much as the glossary element is meticulous and illuminating, the parts of travelogue and critique that Macfarlane threads through make this act of word-hoarding hugely compelling. 
Sophie Coletta, reviews editor
Perc - Berghain, Berlin, January 31
If there's anything more pleasing than losing your shit to Blacknecks at 9.30 on a Sunday morning after a wholesome breakfast and a Panorama Bar White Russian, I don't know what it is.
Pharmakon - Tufnell Park Dome, London, June 4
Margaret Chardiet performing cuts from her excellent album Bestial Burden from last year, ramming into crowd members, nearly garrotting them with a mic lead and licking a giant piece of sheet metal.
Unknown Artist - 'For Promotional Use Only'
(Diagonal)
Cropping up in many a set from Diagonal boss Oscar Powell as of late, this glutinous, stretched-out rework of 2 Unlimited's 1993 banger 'No Limit' is joyously silly and surprisingly easy to dance to.
Objekt - Golden Cabinet, Shipley, February 7
"A push through the crowd reveals a large group of women down at the front, glasses of wine in hand, dancing around handbags piled in a heap on the floor. By the time Objekt drops the final track of the night – a 2014 remix of Pink & Black's 'Sometimes I Wish' – rapturous grins are plastered across every face in the hall." (Read my feature on Golden Cabinet here).
Kuedo - Truancy Volume 117  
To be played once a week, every week. "I expect it will work in post office lines, bus stops. Various public transport & queue situations," said Jamie Teasdale of his recent mix for Truants.
Paula Temple - KAOS @ Electrowerkz, London, June 20
Photograph courtesy of Robert Waddingham
On a swelteringly hot evening in June, Paula Temple's set at London's excellent queer club night KAOS had the room going so hard that the floor of Electrowerkz was allegedly irreparably damaged. Bonus points for drawing the biggest female crowd seen at a techno night all year.
Jenny Hval - Apocalypse, girl
(Sacred Bones Records)
"[Hval's] songs are not about sex but about how to transcend it as our idea of the ultimate connection. 'Could I be that for you? That cupping hand on your soft dick? Could I give you that, that which sometimes expects nothing?' She yearns not for what we already know (not just women: all of us) but for a way to crack apart our confinements: our bodies, how we relate, the gender we're born with, how we access god and find something bigger. Something kingsize." Read Kate Hennessy's review here.
Marlene Dumas: The Image As Burden
(Tate Modern, London, February 5-May 10)
A monstrous retrospective of the South African painter hosted at the Tate Modern earlier this year, highlights from the exhibition included 'Great Men' – a selection of sixteen portraits of notable gay men originally shown in Saint Petersburg, Russia for Manifesta 10 last year, and 'The Painter' from 1994 – a looming portrait of the artist's daughter Helena as a child, hands slick with red and violet paint.
X-Ray Audio - Soviet Music 'On The Bone' - Horse Hospital, London, January 21-31
Photo by Sophie Coletta
An exhibition put together by musician Stephen Coates and photographer Paul Heartfeld, featuring an excellent and fascinating collection of "ribs" - music pressed onto bootleg x-ray plates obtained from Russian hospitals - taken from the post-war period when the Soviet music industry was heavily controlled by the state. (Read our feature written by Coates here).
Gazelle Twin and Carla MacKinnon: Out Of Body – ICA, London, January 15
As if Gazelle Twin's performances weren't visceral enough, Elizabeth Bernholz' collaboration with Carla MacKinnon - which premiered earlier this year as part of London's annual Short Film Festival - saw her layering a live score over MacKinnon's painstakingly-created animations: all chattering teeth, pulsing pig hearts and hair pushing through chicken skin, leaving an entire theatre at the ICA speechless and stippled with goosebumps. (Read our interview with MacKinnon here).
Christian Eede, news editor
Jam City - Dream A Garden (Night Slugs)
An album that, since its release, has best summed up my increasing personal alienation from a city that is continually marginalising its less well-off residents, as well as sparking a drive to be more roundly positive and less cynical about more idealistic pushes for change against the current government. Sounds particularly pressing when standing on a train platform at Elephant & Castle station on my way home from the office watching cranes work on the building of yet another unaffordable glass-fronted apartment block. 
Jam City - ICA, London, June 5
…which leads me nicely on to a show that didn't start so perfectly, what with faltering sound inside the ICA's live music space. With amendments to the sound made as the show went on, though, and an injection of past material from debut album Classical Curves, the room was lifted and the show certainly given a greater sense of urgency, bowing out with a Cure-esque take on 'Unhappy' from Dream A Garden, with Jack Latham bounding about the stage, mic stand dragged behind him, before exiting with not a word more said.
FKA twigs - Congregata @ The Roundhouse, London, February 20
The most on-point realisation of twigs' ambitions to date, taking in expressive dance, a story arc and various theatrics, and a long way away from the (albeit still very good) minimal show I had witnessed in March last year pre-LP1. A more pared down interpretation of the Congregata shows can be found here, in twigs' Glastonbury set (see above also).
Sónar festival - Barcelona, Spain, June 18-20
Skrillex playing 'Where Are Ü Now' in a giant aircraft hangar-like space, dodgems and Evian Christ destroying a large hall with an ambitious light show and live interpretations of his own material - the makings of a good weekend. 
Holly Herndon - Platform (RVNG Intl./4AD)
Engrossing and somewhat educational but not at the expense of also producing highly entertaining and, most importantly, somewhat danceable music. Brings to mind the same warm, positive feelings as Dream A Garden.
Ben UFO b2b Jackmaster @ FWD, Dance Tunnel, London, January 22
After 90 minutes of queueing and with the majority of the assembled crew having given in and headed home, walking down those stairs into one of London's finest clubs to be greeted with Barnt's unrivalled club banger 'Chappell' felt all the more sweet. Extra points for Ben and Jack's trade-off of system-rattling early dubstep in the night's final 30 minutes. 
Lena Willikens - Phantom Delia (Comeme)
The best release from Comeme in some time, the Salons Des Amateurs resident's debut offers up six tracks of EBM-indebted oddities moving across various BPMs. Her mix for Hessle Audio's January 15 Rinse FM show is also well worth checking out, featuring Shackleton's 'Beat His Command' played at 33rpm. 
Wanda Group's tweets
With a keyboard that permanently seems to be stuck on caps lock, the Opal Tapes producer offers a sweary, hilarious eye on just about everything, including the Boddika incident. 
Pender Street Steppers and Young Marco - Corsica Studios, London, June 5
Mood Hut's Pender Street Steppers working through a selection of disco, acid house and their own signature sounds from Vancouver followed by a masterclass from Amsterdam's Young Marco taking in the hidden gems amassed from years of digging, all culminating in an outing for Talking Heads' 'This Must Be The Place' to round things off. Also the night I considerably injured my thumb from banging Corsica's wooden DJ booth too much. 
Job Jobse - RA.462
The former Trouw resident contributes to Resident Advisor's ongoing mix series with a flawlessly mixed selection of house and techno, old and new, that he rather endearingly admits took a number of attempts to get right. A very underrated DJ offering up a solid selection of club music including a rather brilliant Popol Vuh edit that is finally receiving a 12" release very soon on John Talabot's Hivern Discs label. 
Karl Smith, literary editor
Holly Herndon - XOYO, London, January 10
Herndon's live act has a rare kind of omnipresent quality: yes, she's up there onstage, doing her thing - making music accompanied by visuals that, together, are at once an all-out war on the senses and a familiar embrace - but the audience is never reduced to flâneurism, in a way almost as much a part of coming together to create something as the musician herself. (Read our interview with Herndon here and our review of the show here.)
Atticus Lish - Preparation For The Next Life
(Oneworld)
An American novel focused on the lives of - and subsequent relationship between - an illegal Chinese immigrant of mixed intra-national heritage and a damaged Iraq veteran written by the 43-year old Manhattan-born son of a renowned (though estranged) literary editor could very easily have been a disastrous exercise in privilege. But Preparation is not that at all: it's a beautifully written and compelling piece of fiction – an exercise, if in anything, in humanity. (Read our interview with Atticus Lish here.)
Grimes - 'REALiTi'
(4AD)
Hearing at the end of last year that we'd lost Grimes' new album before we even had it (fuck!) was almost as painful as the moment I realised her tour with Lana Del Rey only had US dates (FUCK!). 'REALiTi' is the only real panacea for those unfortunate conditions: an absolute stormer of a pop song and one of the best I've ever heard carrying the parenthetic demo caveat.
Ben Lerner - 10:04
(Granta)
It's a novel about a detached, intellectual, Brooklyn-based writer with a congenital heart defect that has him metaphorically becoming and physically consuming the cephalopod of his dreams. What more could you ask for? (Read out interview with Ben Lerner here.)
LaBeouf, Rönkkö & Turner - #FOLLOWMYHEART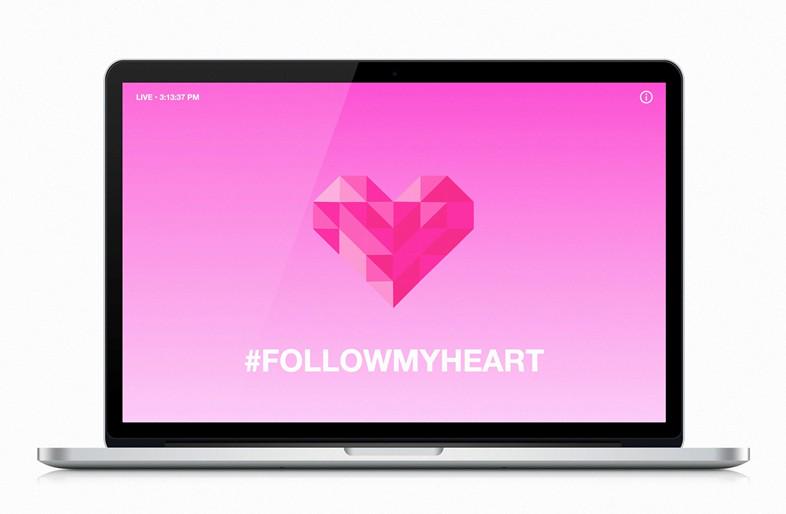 One of the best counter-arguments to the garbage point of view that the internet is actually alienating us from one another rather than connecting or bringing us closer: commissioned by Dazed, LaBeouf's heartbeat was broadcast live on (and is now on repeat at) follow-my-heart.net for the duration of this year's SxSW festival. Sure, it was kind of hypnotic and ambient in its rhythmic quality the real takeaway was a near-overwhelming kind of warm and reassuring quality often lacking in contemporary art.
Melissa Broder - 'R MINUS SEVEN: Poems for Oneohtrix Point Never, R Plus Seven'
Now I make love with no body
I do it with my halo chanting
Set me alive and fucking
A boy attached to no reality
He who needs no milk or punishing
He who will never abandon
Most of the time when music and poetry cross paths the outcome is horrendous and/or hilarious to the point of nausea: either the most unpleasantly pungent variety of cheese (the kind with the most potently ammonia-fragranced rind) or the dullest form of ekphrasis. Melissa Broder's  'R MINUS SEVEN', part of Rhizome and the New Museum's Poetry as Practice exhibition, is an absolute exception. (Read interview with all the participants in 'Poetry as Practice' our here.)
The Tribe
I don't speak sign language. Maybe you don't either. It literally does not fucking matter.
Alejandro Jodorowsky - Where The Bird Sings Best
(Restless Books)
Jodo is mad as they come – as evidenced by our interview earlier this year – but his first English-translated novel, like his films, has a vision and a clarity that seem almost beamed in to the eccentric Chilean. He doesn't much care for the Marquez comparison – and maybe it is a little lazy – but Jodorowsky's 'real magic' is, at the very least, an equal to the Colombian's magical realist oeuvre.
Blade Runner at the BFI
There's not a great deal to say about Blade Runner that hasn't been said before at some time over the last 33 years, but as a child of 1990, seeing it on the Big Screen – how well the visual effects hold up against (even come off as superior to) contemporary cinema, hearing Vangelis' near-perfect score over something other than the onboard speakers of my TV, and taking in the bizarre humanity of a film about a man who might be a robot killing other men and women who he's pretty sure are robots – is something else.
"alone eating cheese so you know it';s saturday night" — so sad today (@sosadtoday)
Absolute Ronseal. 
Mat Colegate, film editor
Autokrator - Autokrator
(Iron Bonehead)
Because the only thing more powerful than the kind of death metal that sounds like being locked in a barrel full of human offal, is when said metal is tethered to the yoke of Imperial Rome.
Black Zone Myth Chant - Mane Thecel Phares
(Editions Gravats)
An album that glimmers like sunlight off a pyramid. An electronic record that transcends its origins and ends up sounding like some discovered artefact from an ancient spaceship-piloting race of master-builders.
E.E.K. featuring Islam Chipsy - Kahraba
(Nashazphone)
Makes me feel like I could punch out a lion.
Shit & Shine - 54 Synth-brass, 38 Metal Guitar, 65 Cathedral
(Rocket Recordings)
Trying to work out whether someone is taking the piss or not has never been so much fun. The true inheritors of the Butthole Surfers' ugly fairground. Fiendish, bloody-minded psychedelia for a disintegrating age.
Josh Simmons - Black River
(Fantagraphics)
This female-populated post-apocalyptic tale from the creator of the almost unreadably terrifying The Furry Trap is as you'd expect: a nightmarish trip into utter terror and unspeakable degradation. The most intense comic book of the year.
Keenan Marshall Keller and Tom Neely - The Humans - Vol. 1
(Image)
A no-holds-barred, sleazy low-rent classic, in which a gang of monkey bikers (yes, MONKEY BIKERS) fight, fuck, ride and turn on in a desert wasteland. Has about the the real look and greasy smell of the best '70s exploitation cinema.
Grant Morrison and Chris Burnham - Nameless
(Image)
Grant Morrison finally commits himself to a 100% horror comic and the results are so glutinous and grim that you could peel them from a wall. Event Horizon meets The Sandman? Alien vs H. P. Lovecraft? Who cares, when Burnham's art holds the whole thing together so beautifully.
Mad Max: Fury Road
(dir. George Miller)
Jesus, who the fuck saw that coming?
It Follows
(dir. David Robert Mitchell)
Tender and terrifying in equal measure. David Robert Mitchell's horror debut is a stunningly original look at the teenage shibboleth of growing up, through a wide-angle lens of pant-wetting fear.
Magma - Cadogan Hall, London, May 8
My first time seeing the legendary French Zeuhl-sters came the evening after the general election, and was just the kind of third-eye-scouring reminder of the limitless possibilities of the imagination needed on that grimmest of days.